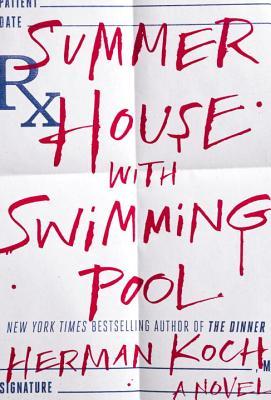 When a medical mistake goes horribly wrong and Ralph Meier, a famous actor, winds up dead, Dr. Marc Schlosser is forced to conceal the error from his patients and family. After all, reputation is everything in this business. But the weight of carrying such a secret lies heavily on his mind, and he can't keep hiding from the truth…or the Board of Medical Examiners.

The problem is that the real truth is a bit worse than a simple slipup. Marc played a role in Ralph's death, and he's not exactly upset that the man is gone. Still haunted by his eldest daughter's rape during their stay at Ralph's extravagant Mediterranean summerhouse-one they shared with Ralph and his enticing wife, Judith, film director Stanley Forbes and his far younger girlfriend, Emmanuelle, and Judith's mother-Marc has had it on his mind that the perpetrator of the rape could be either Ralph or Stanley. Stanley's guilt seems obvious, bearing in mind his uncomfortable fixation on the prospect of Marc's daughter's fashion career, but Marc's reasons for wanting Ralph dead become increasingly compelling as events unravel. There is damning evidence against Marc, but he isn't alone in his loathing of the star-studded director.
This was an incredible, thrilling read that was impossible to put down. It had everything I ask for in a book: an unreliable narrator, a psychological mystery, and gorgeous writing.
The narrator's voice is what makes this novel as good as it is. Marc, the protagonist and narrator, is a general practitioner who doesn't really care about his patients. He is borderline sociopathic, I felt, and that makes for seriously exciting reading. He is not necessarily likeable as a character, and he is no hero, but the reader does grow to sympathize with him.
This is a literary novel, so don't expect car chases, but the plot is ripe with moment brimming over with tension. The author does an incredible job of setting the mood for us and building the tension bit by bit until we are just waiting for the disaster to happen. Although I won't reveal the ending, I enjoyed its ambiguity. Since Marc really can't be trusted to tell us what the truth is, the way the novel ends is perfect.
If you love psychological thrillers, then I highly recommend this one