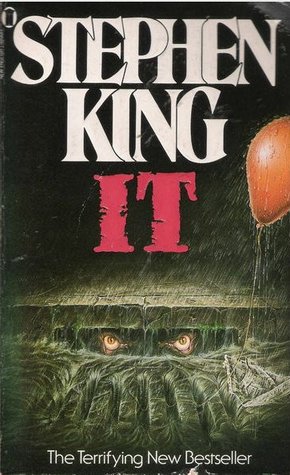 To the children, the town was their whole world. To the adults, knowing better, Derry, Maine was just their home town: familiar, well-ordered for the most part. A good place to live.

It was the children who saw - and felt - what made Derry so horribly different. In the storm drains, in the sewers, IT lurked, taking on the shape of every nightmare, each one's deepest dread. Sometimes IT reached up, seizing, tearing, killing . . .

The adults, knowing better, knew nothing.

Time passed and the children grew up, moved away. The horror of IT was deep-buried, wrapped in forgetfulness. Until they were called back, once more to confront IT as IT stirred and coiled in the sullen depths of their memories, reaching up again to make their past nightmares a terrible present reality.
Stephen King is a master at what he does. If there were any doubts in my mind as to his skills as a story-teller, then this novel wiped them clear. Not only is it frightening, but it is told in a way that unfolds the horrors in its pages slowly, building up the tension until it boils.
One of the things I most enjoy about Stephen King novels is the way that he brings a group of characters together, bonding them with each other and with the reader, so that we feel just as much a part of the group as they are. The protagonists in this novel are all lovable and wholly real. I would have liked, however, to have learned a bit more about Robert Gray.
King's foreshadowing is masterfully done in this novel, as is the way he connects one chapter to the other fluidly. The only thing I felt a bit disappointing was the defeat of It in the present day. It was a bit anti-climactic, with not nearly enough of the tension that King is so good at building. He recovers from this well, though, because he brings a particular poignancy to the last few chapters of the novel. I won't reveal what happens, but the ending leaves the reader feeling as if they have just lost a good friend.