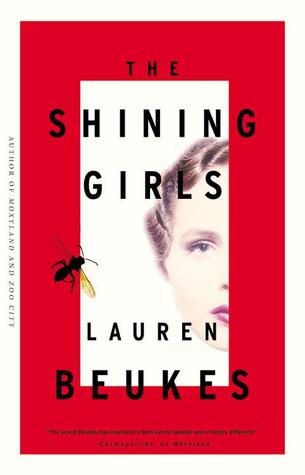 Harper Curtis is a killer who stepped out of the past. Kirby Mazrachi is the girl who was never meant to have a future.

Kirby is the last shining girl, one of the bright young women, burning with potential, whose lives Harper is destined to snuff out after he stumbles on a House in Depression-era Chicago that opens on to other times.

At the urging of the House, Harper inserts himself into the lives of the shining girls, waiting for the perfect moment to strike. He's the ultimate hunter, vanishing into another time after each murder, untraceable-until one of his victims survives.

Determined to bring her would-be killer to justice, Kirby joins the Chicago Sun-Times to work with the ex-homicide reporter, Dan Velasquez, who covered her case. Soon Kirby finds herself closing in on the impossible truth . . .
A time traveling serial killer. That's all you really needed to say to get me to pick up this book. Thankfully, the novel is not only about a great premise, but has some wonderfully crafted sentences, as well.
The author must have spent quite a bit of time plotting out this novel, because it is intricate, as all time traveling ones are. It's not nearly as confusing as, say, The Time Traveler's Wife, but it still has some interconnecting stories that the reader has to be able to keep track of and the author does a good job following the plot lines clearly.
I do wish we'd have gotten to know Kirby a bit more. We don't really know why her relationship with her mother is strained or why she calls she calls her Rachel and not "mom". A little backstory would have added another layer, I think, and connected us more to the protagonist. Harper, on the other hand, is a very interesting villain. You don't sympathize with him, even though we see a lot of the events from his viewpoint, but you also don't hate him. I don't know if the author wanted us to have a more visceral reaction to his sections, but she was very careful to keep her narrative voice neutral throughout the murder scenes and all of that.
The conclusion was also nicely done, tying everything together. I would recommend this one to people who love time traveling or even to those of you who want something different to read.
Sign up to participate in my debut novel's blog tour here!