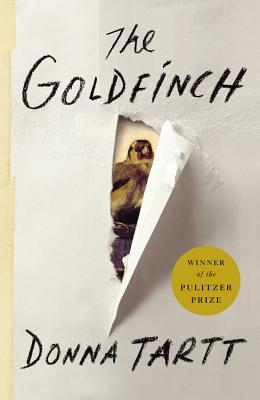 It begins with a boy. Theo Decker, a thirteen-year-old New Yorker, miraculously survives an accident that kills his mother. Abandoned by his father, Theo is taken in by the family of a wealthy friend. Bewildered by his strange new home on Park Avenue, disturbed by schoolmates who don't know how to talk to him, and tormented above all by his unbearable longing for his mother, he clings to one thing that reminds him of her: a small, mysteriously captivating painting that ultimately draws Theo into the underworld of art.

As an adult, Theo moves silkily between the drawing rooms of the rich and the dusty labyrinth of an antiques store where he works. He is alienated and in love-and at the center of a narrowing, ever more dangerous circle.
There's a reason why this book won the Pulitzer Prize in fiction. It is a marvel of language and story-telling.
This novel is such a complex story that it is difficult to give it a genre. Yes, it is literary fiction, but there's a bit of everything in it, from comedy to thriller-like action. The best part of it, though, is the writing. Donna Tartt has a way of writing that always impresses. Once in a while it can come off as arrogant, I'll admit that, but there are so many wonderful passages in this book that you can forgive her for some of the more highhanded moments.
Theo, our protagonist, is someone we get to know intimately. He is so well written that he becomes part of our everyday lives. This is what an author has to strive for: a character that could easily walk down your street, with his own life and issues. Someone wholly alive.
If you want to read a book that will leave you wondering how someone can write so beautifully, pick up this one.